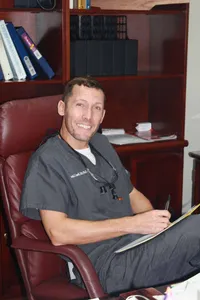 Dr. Kosek was born in St. Louis, MO, and moved with his parents, two brothers, and the family dog to Detroit, MI five years later. At the age of thirteen, his family then moved to Huntsville, Alabama, and this is where his family has called 'home' since. After completing high school, he spent two years at the University of South Alabama in Mobile, AL, having earned a scholarship to play soccer there. He then transferred to Birmingham-Southern College and subsequently earned a Bachelor's of Science degree in Biology, while serving as captain of the men's soccer team.
Dr. Kosek was then accepted into graduate school at the University of Alabama at Birmingham, and earned a Ph.D. in Cellular and Molecular Physiology. While at UAB, Dr. Kosek conducted skeletal muscle physiology research at both the VA Hospital and UAB Hospital, and earned his degree in 2007 by defending his dissertation "Aging Differences in Mechanisms of Human Skeletal Muscle Hypertrophy".
Although he holds basic science and research very near to his heart, Dr. Kosek sought a more immediate impact on the lives of the people around him, and fell in love with the combination of science, medicine, and artistry which dentistry provides. As such, Dr. Kosek then attended the University of Florida, earning a Doctor of Dental Medicine (DMD) degree in 2011. During his time at UF, Dr. Kosek was the recipient of the Omicron Kappa Upsilon Ethics Award for four straight years, earned the Retired Uniformed Services Scholarship, and served for four years as class president.
While in dental school, Dr. Kosek was selected for a scholarship from the United States Navy; upon graduating, he was promoted to Lieutenant, and served on active duty for over five years. His time on active duty took him to Norfolk, VA where he completed residency training, and earned an Advanced Education in General Dentistry (AEGD) certificate. Afterwards, he was stationed aboard the USS Nimitz (CVN-68) for two years, where he was deployed in support of Operation Enduring Freedom. Following his time at sea, Dr. Kosek was sent to the Naval Air Station in Jacksonville, FL, where he completed his active duty service obligation.
While in Jacksonville, he married the former Kalie Barrett, of Jacksonville, FL, who is a fellow Gator grad, and a Physician Assistant at Center for Sight.
Dr. and Mrs. Kosek moved to Sarasota County in September 2016, and they absolutely love the area! "The warmth and kindness of the patients who come through our door is unparalleled, and we work very hard to guarantee that all people who come to us are treated like family. We pride ourselves on offering the highest quality of dentistry that can be provided, while ensuring that patients are thoroughly educated on their condition, and the treatment options that exist. We look forward to seeing you soon!".
Dr. Kosek and his wife also recently welcomed a baby boy to the world! "Sports training has already begun, but we will wait a little while before we commence with his chair side dental training," says Dr. Kosek, of his son.